Benetton Group (Italy)
Profile subscribers click here for full profile
Benetton became one of the world's best known clothing brands in the late 1980s, largely as a result of striking and often controversial advertising campaigns which sometimes seemed to have only minimal relevance to the stylish but generally conservative clothes they represented. Instead Benetton's advertising served principally a platform for the worldview of Luciano Benetton, a leading member of the company's founding family which, in typically Italian style, has accumulated substantial interests in numerous sectors other than fashion. Other investments range from airport and motorway catering and retail services to farming. Clothing now accounts for 15% or less of the family business. The Benetton fashion chain remains an important global business, but in recent years has lost much of its customer base to rivals such as Zara and H&M or to mass-market acceptance of more expensive luxury brands.
Selected Benetton advertising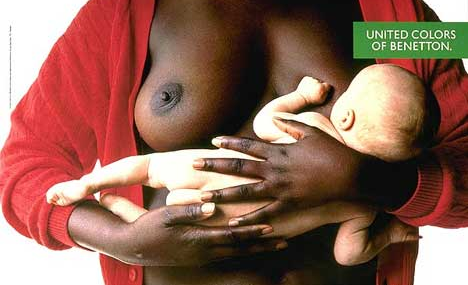 Which agencies handle advertising for Benetton? Find out more from the Account Assignments database.
Who are the competitors of Benetton? See Fashion & Clothing Sector for other companies
Subscribers only:
Adbrands profile
Account assignments and selected contact information
Adbrands Company Profiles provide a detailed analysis of the history and current operations of leading advertisers, agencies and brands worldwide, and include a critical summary which identifies key strengths and weaknesses. Adbrands Account Assignments tracks account management for the world's leading brands and companies, including details of which advertising agency handles which accounts in which countries for major markets.
---
Brands & Analysis
See full profile
Management & Marketers
See full profile
Financials
See full profile
Background
Free for all users | see full profile for current activities: The Benetton business was conceived in the 1950s in northern Italy by four children struggling to make ends meet after the untimely death of their father. Giuliana Benetton was a talented seamstress, and in 1955 her three brothers Luciano, Gilberto and Carlo agreed to sell some of their toys to buy her a new knitting machine. Eldest sibling Luciano left school to begin selling her brightly coloured pullovers and cardigans to local retailers. Gilberto and Carlo joined the company after they left school in the late 1950s, and the family business gradually began to grow, supplying department stores now rather than simply local shops. In 1965, the four siblings established Benetton as a partnership, acquiring a small factory in their home town of Treviso a year later. The first Benetton shop opened in 1968, and further stores followed, with increasing speed, over the next few years. In 1969 the family bought a ruined 16th century palazzo near Venice, Villa Minelli, and over the next fifteen years restored it with loving care to eventually become their corporate HQ. The business continued to expand and by 1975, there were more than 200 Benetton outlets in Italy. That year the group acquired Paris-based Sisley, gradually establishing it as a second, more upmarket label.
At the end of the decade, Benetton took its first steps into the US, opening five test stores. When these proved a success, the company leaped wholeheartedly into the market, opening 600 stores in North America over the next six years. In 1983, it was the first Western retailer to move into communist Europe, opening its first shop in east Germany. In 1986 a separate company, Edizione Holding, was established to manage the family's shareholdings, and that year around 11% of the shares in Benetton were floated to the public. (A further tranche was floated in 1994).
Meanwhile Edizione began acquiring stakes in other clothing businesses. In 1987, it took over ski equipment manufacturer Nordica, followed by tennis equipment maker Prince in 1988. In 1989, the holding company bought 50% of British sports car maker TWR (sold in 2001), as well as Rollerblade, the company which had devised inline skating a few years earlier. However, the clothing business was beginning to suffer, especially in the US, where the now numerous franchisees were facing fierce competition from each other as well as from fast-expanding rival The Gap. A more serious threat was the company's increasingly flamboyant advertising, devised by Luciano Benetton and his new creative director Oliviero Toscani.
Launched in 1984, the core concept of the company's advertising was "All the Colors of the World", the idea that people were all the same beneath their religious and racial badges. The first incarnations of this theme were a series of images of children of all nationalities playing together. However, with Luciano's endorsement, Toscani gradually began extending the brief to tackle more controversial issues. In 1985, the flags of what were then culturally opposing countries were juxtaposed, for example Greece and Turkey, Argentina and Great Britain, the US and the then-USSR. In 1986, the same idea became more explicit in an image of a young Jew embracing a young Arab. In 1989, for the American market, one ad pictured a black woman breastfeeding a white baby, while another showed two male hands, one black, one white, handcuffed together.
Gathering confidence, Benetton and Toscani ramped up the shock tactics for the 1990s, under newly adopted slogan The United Colors of Benetton. A photograph of a nun kissing a priest (in 1991) was surprising but acceptable; the same year a poster of a newly-born baby trailing its uncut umbilical cord generated a storm of protest and was banned in several European countries. A year later, an photograph of political campaigner David Kirby surrounded by his grieving family just after he died from AIDS pushed the global community concept too far. Few magazines and newspapers agreed to publish the ad.
In 1993, the store supported the Clothing Redistribution Project, a global scheme to pass on used clothing to poor countries, with a poster image of Luciano Benetton, completely naked and covered only by the caption "I want my clothes back". In 1994, a new poster featured the blood-stained T-shirt and trousers belonging to a soldier killed during the Balkans conflict. This led to a storm of protest from Benetton's own retail license-holders, who claimed that, far from supporting sales, the campaigns were actually driving customers away. The group was later forced to take a group of its German retailers to court when they refused to pay for clothing, claiming the shock-value marketing was putting them out of business. The message from both retailers and the press appeared to get through. Benetton's advertising was noticeably more restrained over the next few years. The "Faces" campaign which ran from 1997 simply portrayed a range of multi-racial teenagers, with shock tactics conspicuous by their absence.
In 1998, Edizione's sports clothing businesses, by now amalgamated as Benetton Sportsystem, were sold to the main group and rebranded as Benetton Playlife. That same year the group agreed a deal to sell its branded clothing through mass-market Sears stores in the US. The joint promotion appeared to be working well in 1999, but after several years of low-profile marketing, Benetton was preparing to unleash another high-controversy campaign. In 2000 a new series of ads was launched to protest against the death penalty in the US by featuring sympathetically photographed full-face portraits of death-row convicts. The campaign caused a storm of protest, and Sears dropped the Benetton range altogether. Finally realizing that he had overstepped the mark, Luciano Benetton agreed to dismiss Toscani as creative director. At the same time, following similar moves by arch-rivals The Gap, Benetton began shifting from its traditional smaller retail outlets to multi-level megastores.
By then clothing had come to represent only a small part of the Benetton family's business interests. Under Gilberto Benetton's careful management, Edizione had invested widely in other sectors, taking advantage of a series of privatizations by the Italian government in the late 1990s. In the 1995 privatization of IRI, Italy's huge state-owned industrial conglomerate, Edizione bought large stakes in GS supermarkets (later sold to Carrefour) and Autogrill, the country's main motorway service business. The group also invested in Italian mobile phone start-up Blu. In 1999, Autogrill became the world's biggest motorway services group with the purchase of US-based Host Marriott Services.
However the group's most daring move was its involvement in the takeover of Telecom Italia. Having dabbled for some time in the telecoms market, the family began negotiations in 2001 to take a stake in the debt-crippled national operator and its parent company Olivetti. Initially the group supported TI's hard-pressed chairman Roberto Colaninno, but switched sides mid-year to back a takeover by Pirelli chairman Marco Tronchetti Provera. A joint venture company part-owned by the Benetton family acquired control of Olivetti, and therefore in turn Telecom Italia. Gilberto Benetton was subsequently appointed vice chairman of Telecom Italia.
In 2002 the group was forced to resolve growing problems in its sportswear division. Misguided attempts in the late 1990s to force several separate businesses to work under shared management and sales teams led to a steep decline in their fortunes. Nordica and Prince both lost their leadership of their respective markets, while Rollerblade slipped into losses. In 2003 the Nordica mountain sports and Rollerblade skating brand were sold to Tecnica group, and Prince tennis rackets to US investment group Lincolnshire Equity.
---
All rights reserved © Mind Advertising Ltd 1998-2018